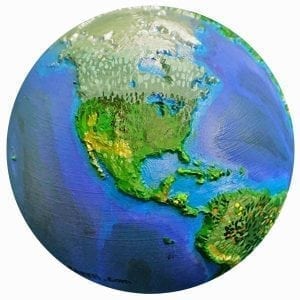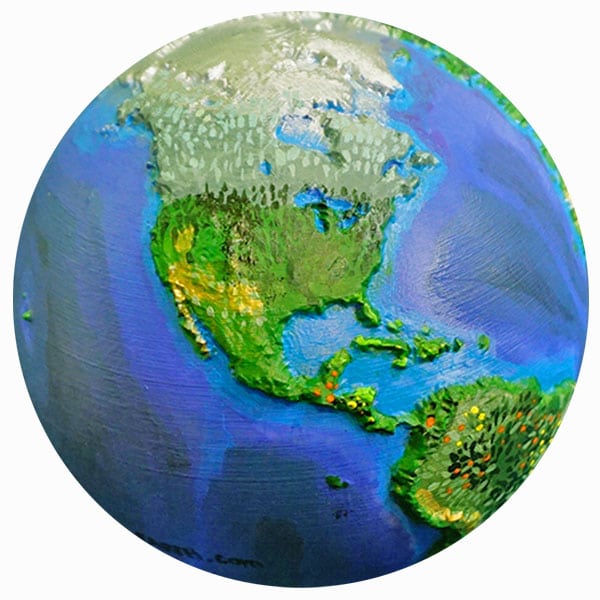 CARRY THE EARTH
About Earth 1: Ecosystems
EARTH 1 is sponsored by Roslyn P. Swire
Dedicated to the memory of Irving and Michael Swire who celebrated life and reflected the beauty of the planet through their exquisite photographs.
STORIES LOCATOR
Use the map features to see where this Earth has traveled.  Click on any of the map markers to view the story posted from that location.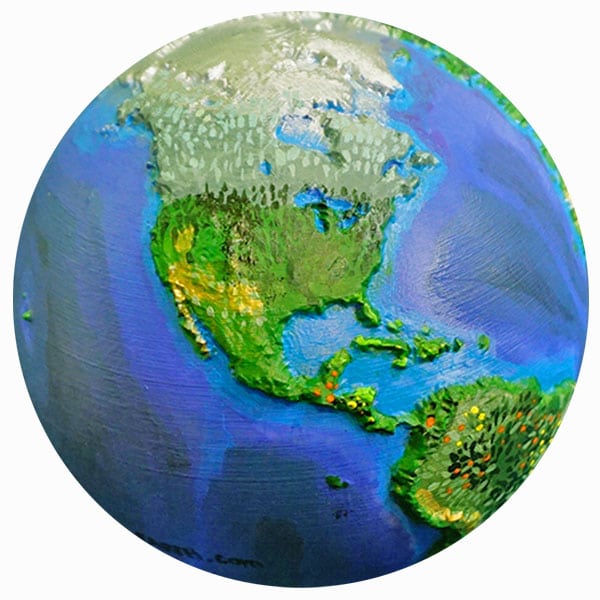 Artist Statement: Ecosystems
This globe is hand painted in a way that expresses my love of the diverse ecosystems on the earth. Each ecosystem has its own unique aesthetic quality and hidden below the perceptual surface lies a complex community of organisms interacting with and dependent on each other and the physical world around them for survival. Humanity is a small part of the complex ecosystems that comprise our planet but in the past century has become the most powerful force that shapes the future of all ecosystems.
ARTIST
Ronnie Swire Siegel
Los Angeles, CA, United States
ADDITIONAL CREATORS
3D Printing: Raise 3D
Printing File: Ben Diedrich
MATERIALS
3D printed globe using Ingeo PLA resins made by NatureWorks and sold as a filament for 3D printing by 3D-Fuel.  Ingeo is made from plants like corn, cassava, sugar cane or beets to capture and sequester CO2 transforming it into long-chain sugar molecules and used to fabricate 3D printing filament.
This globe is 5″ in diameter, lightweight, and durable.  The globe was hand painted by the artist.